As we welcome the warmer weather to Suzhou, exam season gets underway, and another school year draws to a close we reflect on another busy year in the DCSZ counselling office. So far this year we hosted university visits from institutions in 17 countries, three large-scale community events, welcomed four professors into our classrooms, visited Philips Lighting and Safran Landing Systems, and held a few targeted virtual visits with universities who couldn't visit us on campus.
In April, we individually welcomed University of Oxford and Dartmouth College to campus to speak with students and parents. Although Oxford makes an annual trip to China, this was the first time in five years that they had visited Suzhou and the first time Dartmouth has made the rounds in Suzhou.
Why does any of this matter?
It matters because it adds value to the quality education your child receives at DCSZ; it matters because your child has access and opportunity to engage with a range of universities on a weekly and sometimes daily basis. Our students can explore the thousands of majors/subjects available beyond high school, better understand what it takes to be admitted at universities across the globe, learn how to prepare for the social and academic transition to university, remain realistic about higher education options, gain a better understanding of scholarships and convert that knowledge into huge savings!
One of the quotes you'll find hanging in my office reads, "Not everything that counts can be counted, not everything that can be counted counts."
It is impossible to measure the impact that a single lecture, work experience, or university visit may have on a young mind, but I can say with certainty that our students are privileged young men and women. If they seek out opportunities on offer at Dulwich College Suzhou, they will find powerfully engaging, impactful, and life-changing enrichment.
It matters because China is full of myths and fear regarding higher education, often perpetuated by those who stand to gain financially from the very fear they drive. Every year in our community we see difficult life changing decisions resulting from these environmental influences and pressure sometimes from those within their network. Parents begin asking themselves questions like:
"Should we transfer our child to a boarding school abroad?"
"Should we send him/her on expensive summer programmes?"
"Should we buy costly training school packages to support with test-prep, essays, college lists, and "counselling" services?"
If you are trying to answer these questions, wouldn't you like to hear straight from the source?
If you didn't attend the events aforementioned, here is a summary for you.
Ms Hamilton, Undergraduate Student Recruitment Officer East-Asia for University of Oxford shared institutional specific information, discussed the college system, explained Oxford tutorials, reviewed the application timeline, offered tips on writing the personal statement (remember they aren't that interested in the suggested 20% on ECAs), talked us through the entire admission process providing clarity about the weight of the interview, disassociated University of Oxford from any summer programs or interview "prep" services using their name, and extinguished the myth about Chinese/Asian student quotas on their campus.
· Students are highly discouraged from taking additional qualifications or combining qualifications (i.e. 4 A-levels, or AP courses in combination with A-level or IBDP) in hopes of gaining advantage in the application pool. Meeting the conditions makes you eligible for admission (A*A*A), exceeding the conditions doesn't make you any more eligible (A*A*AA) – that requirement has been met.
· It is incredibly difficult to be admitted to Oxford for any course, but remember there are literally hundreds if not thousands of high quality poster-secondary education options.
· If you are an international student who wants to study medicine in the UK – Ms Hamilton suggested not wasting 1 of 4 UCAS medicine applications on them. Why? This is because they have a maximum of seven seats available every year to international students to study medicine; they have never filled more than two seats in the past five years.
· Students were encouraged to focus on pursuing academic interests and reading around their subject rather than disingenuously preparing what they think will be perceived as a strong application.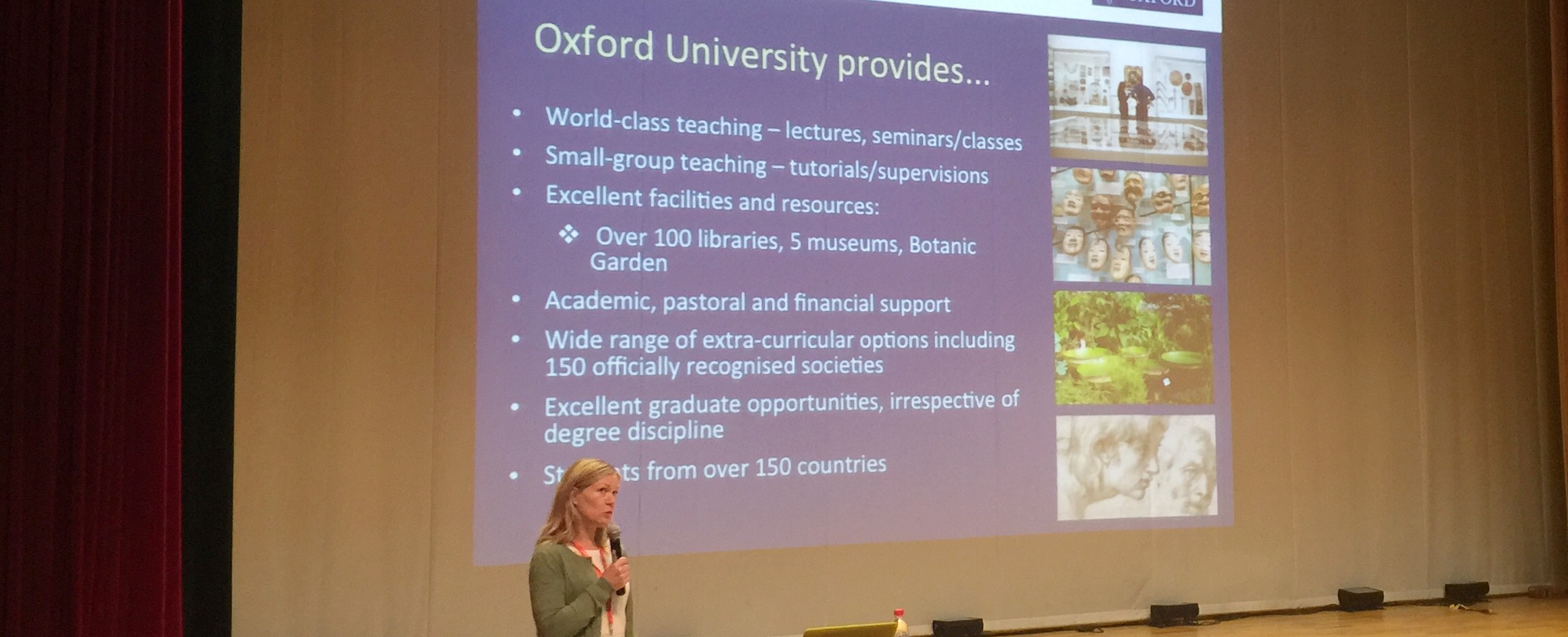 --------------------------------------------------------------------------------------------
Dartmouth College's Mr Zholl Tablante, Senior Assistant Director of Admissions, stood on the same stage echoing messages we heard earlier in the year from countless universities including Stanford and fellow Ivy Cornell – SAT/ACT is only one component of the 'holistic' admissions review, there is no institutional score requirement. In fact, they reject more perfect scores every year than they accept. Mr Tablante detailed the characteristics of academic and social life that set the Dartmouth experience apart. It starts with the calendar structure, the quarter system aligns with the seasons and provides students a choice – they need to pick 3 out of 4 quarters. This provides flexibility and 3 additional classes by the end of their four years. Other distinguishing characteristics include the orientation retreat and Sophomore Summer. Tremendous value is placed on multidisciplinary learning, study abroad, and autonomy to create the undergraduate experience you want. Although graduate degrees are offered, technically qualifying them as a 'university' by definition, they've maintained the name Dartmouth 'College' because they make all resources and opportunities available to graduate and undergraduate students alike.
· Applications are read in the context of your school, not your nationality, curriculum, or the country you apply from.
· Dartmouth College offers no merit scholarships, but guarantees that 100% need will be met by any admitted student (complete the CSS Profile to be eligible).
· "Don't use an agent. We can tell when a student is using an agent, and you have excellent counsellors in your school."
· Focus your energy on getting the grades in the classroom and developing genuine interests in other areas to strengthen your profile.
· Within the application remember to be true to yourself. Essays, activities, and achievement that lack authenticity are easily detected and consequently unimpressive.
I would like to take this opportunity to congratulate the Class of 2018. We are very proud of this class and we look forward to hearing about the next chapter of their individual journeys.
-------------------------------------------------------------------------
By Lukas Devlin, University and Careers Counsellor