Come and Join our Parent Academy!

Parent Academy is back on for Term 3 and this time we will be meeting virtually through Zoom! It starts for DUCKS and Junior School next week. The programme will explore a range of different experiences that our students come across in the College. Here is the detailed schedule.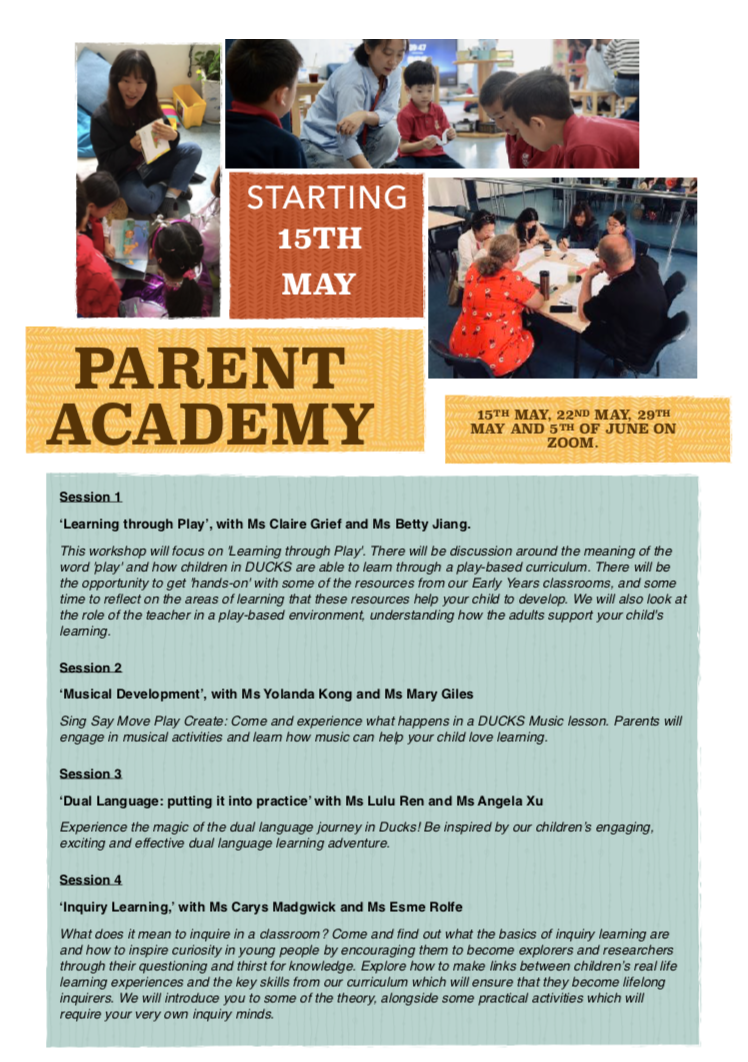 DUCKS
Parent Academy will take place on Fridays from 2:00 - 3:00pm on the 15th May, 22nd May, 29th May and 5th of June. The four sessions this term will cover the following themes:
Session 1: 'Learning through Play', with Ms Claire Grief and Ms Betty Jiang
Session 2: 'Musical Development', with Ms Yolanda Kong and Ms Mary Giles
Session 3: 'Dual Language: putting it into practice' with Ms Lulu Ren and Ms Angela Xu
Session 4: 'Inquiry Learning,' with Ms Carys Madgwick and Ms Esme Rolfe
To sign-up for Parent Academy for Term 3 please sign up using the following Microsoft Form:
https://forms.office.com/Pages/ResponsePage.aspx?id=uCdbHW-HPUygLkLFBO3lQfSvSrzg2GBAsdJLo0n3xJRUM1hCWTVNMElVS0FVTTczOTZIMllEWllFSi4u
Deadline for sign-up is Wednesday 13th May 2020. A Zoom link will be sent out from Ms Beth on Thursday 14th May for you to access the Parent Academy Workshop.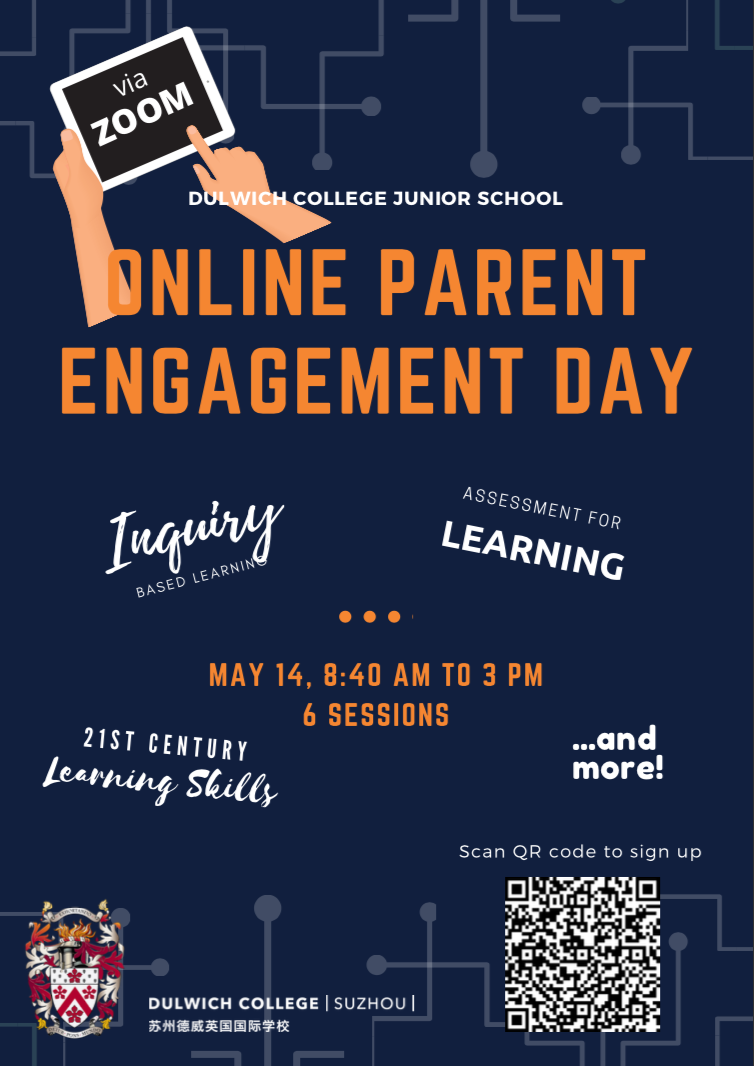 JUNIOR SCHOOL
Parent Engagement Day – Thursday 14th May
Junior School is very much looking forward to welcoming you to our first online Parent Engagement Day on Thursday 14th May 2020. The day aims to offer you a diverse range of workshops which we very much hope help you to find out more about how to support your child in their learning at school and beyond. Please scan the QR code on the poster for registration.
8.40AM – 9.30AM
What are the skills needed to be a great inquirer?
With Lia Winfieldale
10AM – 11AM
How can the library support inquiry?
With Odette Holweg
11AM – 12PM
21st century learning skills
With Glory Goh
12PM – 1PM
Assessment for Learning
With Steve Dalgarno
1PM – 2PM
Year 5 Parent Talk – Puberty
With Holly Poppell
2PM – 3PM
Year 6 Parent Talk – Transition
With Nigel Wilsonlock and the Senior School staff team