DCSZ Parent Gloria R Shares Her Family's Online Learning Journey
After a trip to Thailand over the Chinese New Year holiday, Dulwich College Suzhou parent Gloria R and her family returned to Suzhou on 3 February, where her children, like most of the Dulwich community, began the new semester with online learning. Despite the unusual circumstances, Gloria notes that the extra time she now has with her children, Edna in Year 10 and Eleanor in Year 12, allows her and her husband to further strengthen their relationship with them.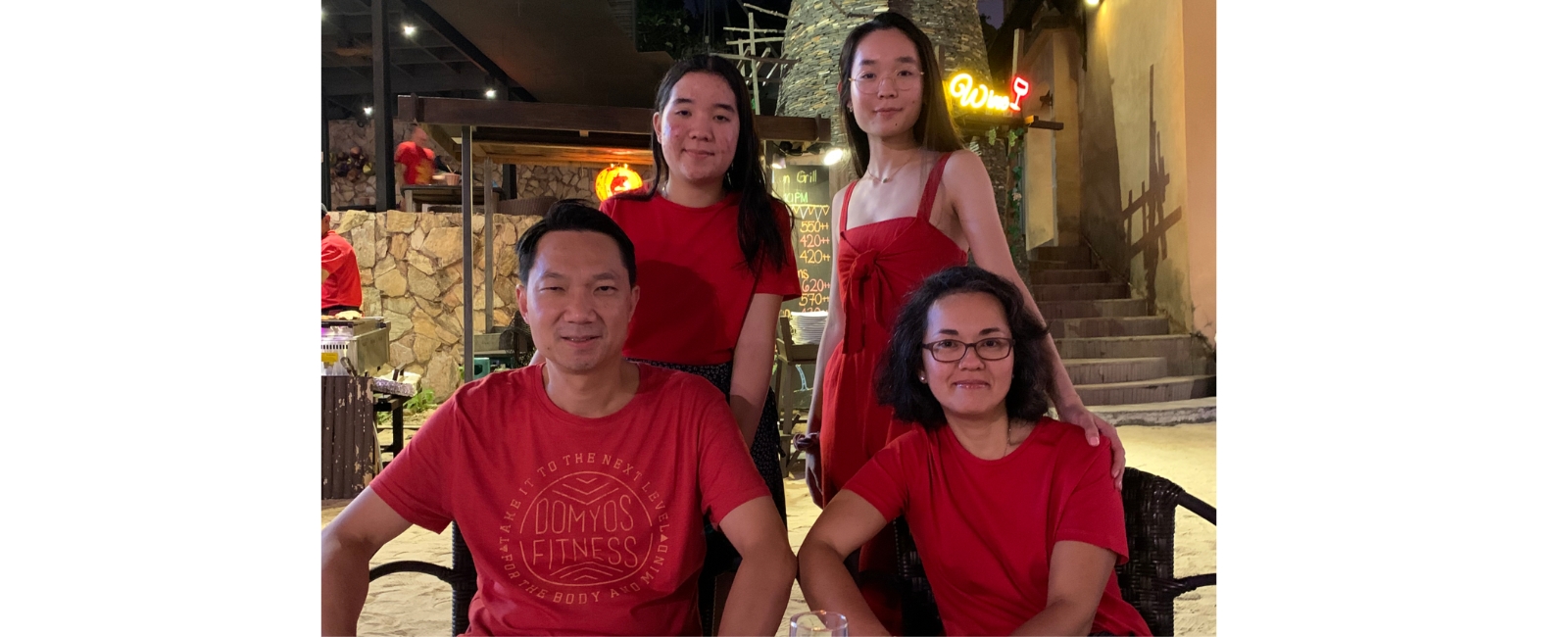 As part of our #DCIconnect series, which aims to connect and support parents through online learning, we've asked Gloria to share how her family has been managing their time:
What does a typical day look like for your family?
Our daughters start their weekday at 8:30am and end at about 4pm if there aren't online interactions with their teachers scheduled later in the afternoon. Whenever weather permits and at their lunch break during the weekday my daughters will either take a stroll in our compound or play a short game of football or other games in our garden. We encourage them to get some sun and to get away from their computer. During the evening after dinner, we tell them to retire for the day from their work, and we either play cards or watch a movie together. On weekends, we take a longer stroll as a family after lunch. Once, we even bumped into Mr O'Connor, Headmaster of DCSZ!
How have you used this time to strengthen your relationships with your children?
We've been able to strengthen our relationships with our children through spending more time together (for example eating meals together) and participating in family activities like watching movies, playing games and taking walks. We participated in the Walk for Wuhan last Saturday 14th March (22,000 steps we did!). Communication with our children has always been very easy and natural, so through spending extra time we've been able to form a stronger bond.
What topics of discussion or activities have been especially useful for bringing the family together?
For our family, topics like the contrast between millennial music and oldies music, stocks, current global issues (e.g. politics and global economy), entertainment and food have been particularly engaging. Besides watching movies, gardening, playing games and spring cleaning, we have also taught our daughters how to play mahjong - of course, no money or counting of points involved so not to teach them the gambling part of the game!
Have there been activities your family has engaged in that you wouldn't otherwise have the time for?
My younger daughter who is in Year 10 has made use of this special time to search for pen-pals around the world, and she has actually found five new friends who share her interests (music and collecting stationery). She has written snail mail to them and eagerly awaits some in return. She has also made and painted some bookmarks to fill her time. My eldest daughter who is in Year 12 has used her time to look for law firms overseas to apply for an opportunity to shadow a lawyer over the summer; she has written and sent five applications so far.
How have you been able to keep up with friends and the broader Dulwich family?
Our family has stayed connected with friends and the community through video calls and texts and updating each other on the rapid ongoing changes of coronavirus regulations. As a parent rep I also stay connected with other college parents and discuss concerns and feedback with them; this way, we continue to feel connected as a college parent community.
How do you stay motivated and help your children stay motivated to keep up a positive outlook or make the best out of the situation?
We make sure to remind our children to be grateful that they're in a safe and nurturing environment during this pandemic. We also remind our children that we're very happy to spend more quality time with them - our eldest daughter will be graduating soon, and both our children's normal schedules are quite hectic with CCAs, music practice and homework.
For myself, I enjoy cooking for my family and friends, and in return, they enjoy eating my food. During this time, friends either pick up the food from my compound entrance or I deliver it to them as this is currently our only option.
Do you have friendly advice for other parents in the Dulwich community?
Try to make the most of this valuable time that you have with your children, try to encourage your children to exercise, and provide them with healthy food and lots of hugs.
If you are interested in sharing your story with the Dulwich community about how your family is managing the online learning period, please feel free to email: communication@indulwich.com.