Covid-19 Prevention: Guidance for Students

Dear students and parents,
In order to ensure about the daily prevention of the Covid-19 virus, the Suzhou Education Bureau and the relevant authorities have initiated the Guidelines for Novel Coronavirus Infection Prevention and Control in Schools. The below section is about student education. We strongly encourage our students and parents to read it thorougly. Let us take care of ourselves, and take care each other.
亲爱的各位同学,家长们,
为支持各个学校做好当前的疫情防控工作,保障大家的健康,苏州市教育局和苏州市疾病预防控制中心出版了中英文的防控知识手册。这里是有关学生如何注意卫生,做好每日预防的篇章。我们诚恳的期望各位同学和家长仔细阅读这个手册,在这个特殊的时刻,照顾好自己,照顾好大家。
1. How do I wash my hands correctly?
Wash your hands with running water, use soap or hand sanitiser, dry hands with adisposable paper tissue or clean towel.
There are seven steps to washing hands correctly:
step 1: rub two palms together;
step 2: rub hands and palms together, left and right cross scrubbing;
step 3: rub hands and fingers together;
step 4: hold fingers together, bend joints of fingers, and rub hands together;
step 5: hold thumbs, rotate and rub hands;
step 6: rotate and rub the fingertips of one hand in the other palm and switch for another hand;
step 7: hold the other wrist in one hand and rotate it for rubbing and switch for another hand.
1. 如何正确洗手?
用流动水洗手,使用肥皂或洗手液,用一次性纸巾或干净毛巾擦手。正确洗手七步法:
第一步:双手手心相互搓洗;
第二步:手心对手背,左右交叉搓洗;
第三步:手心相对十指交叉搓洗;
第四步:手指并拢,弯曲各手指关节,双手相扣进行搓擦;
第五步:一只手握住另一只手大拇指,旋转揉搓,交换进行;
第六步:一手指尖在另一掌心旋转搓擦,交换进行;
第七步:一手握另一只手腕部旋转搓擦,交换进行。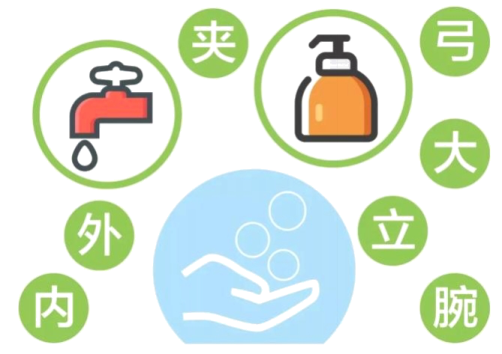 2. When do we need to wash our hands?
Hand washing is required in the following situations: before and after delivering items; after coughing or sneezing; before eating; before and after drinking milk, eating fruit or snacks during break; after using toilet; when hands are dirty; after sports; physical contact with others; after coming back in from outside.
2. 什么时候需要洗手?
在以下情况下需要洗手:传递物品前后;咳嗽或打喷嚏后;吃饭前;饮用课间牛奶、水果或点心前后;上厕所后;手脏时;体育运动后;接触他人后;外出回来后。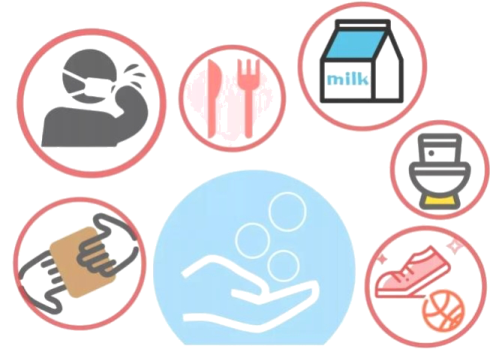 3. What to do if there is no place to wash hands?
When soap and running water are not available, disinfecting products with a 75% concentration of medical alcohol can be used, such as hand sanitizer, antibacterial wipes, alcohol cotton ball or other disinfecting products to clean hands.
3. 没地方洗手怎么办?
不能使用肥皂、没有流水洗手的情况下,可以使用75%浓度医用酒精消毒产品,如免洗洗手液、消毒纸巾、酒精棉球等消毒产品清洁双手。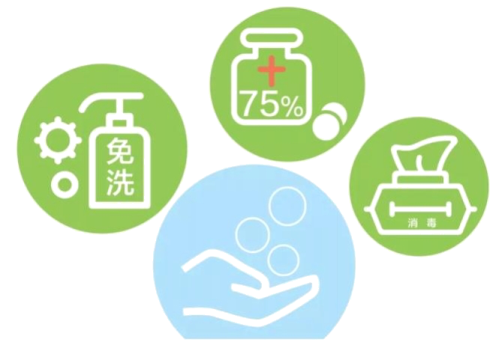 4. How do I maintain personal hygiene?
When coughing or sneezing, cover the nose and mouth with tissue or towel. If not, wash your hands immediately after coughing or sneezing. Avoid touching your eyes, nose or mouth with your hands.
4. 如何保持个人卫生?
咳嗽或打喷嚏时,用纸巾、毛巾等遮住口鼻,如无可用手臂内侧遮挡,咳嗽或打喷嚏后马上洗手,避免用手触摸眼睛、鼻子或嘴巴。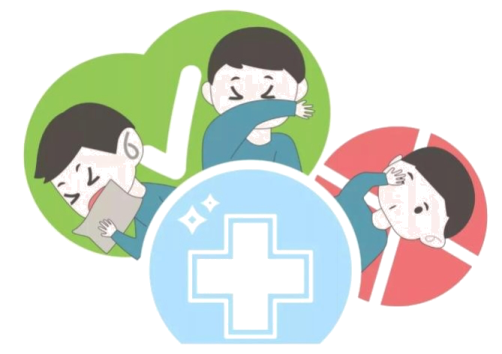 5. How do I choose a mask?
Disposable medical masks should be replaced after 4 hours of continuous use and replaced immediately after becoming damaged, polluted or wet; N95 medical protective masks can be used for 24 to 48 hours without damage or pollution and must be replaced immediately after becoming damaged, polluted or wet; cotton masks or sponge masks are not recommended.
5. 口罩该怎么选?
一次性医用口罩连续佩戴4小时更换,破损、污染或潮湿后立即更换;N95医用防护口罩,无破损或污染可使用24至48小时,破损、污染或潮湿后立即更换;不推荐棉布口罩或者海绵口罩。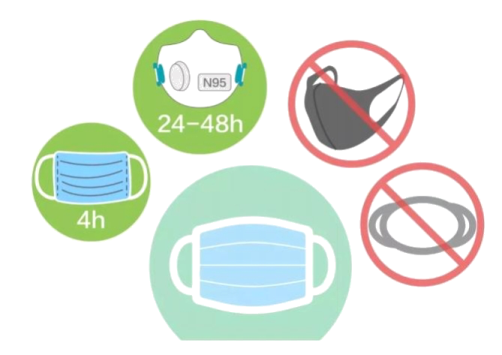 6. What is the best way to wear a mask?
The colour of the medical mask is dark at the front, with the front facing outwards, the light side thus being the interior; there is a metal strip sandwiched on the nose of the medical mask, with the metal strip on the top of the mask; after clearly distinguishing where the front, back, upper and lower ends of the mask are, wash your hands first before determining whether the mask is fitted correctly, and then hang the ear loops on both ends of the mask over your ears; after wearing the mask, press the metal strips on both sides of the nose with your hands so that the upper end of the mask closes over the bridge of the nose, and then stretch out the mask so as to cover the nose and mouth while not leaving any wrinkles.
6. 口罩如何正确佩戴?
医用口罩颜色深的是正面,正面朝外,颜色浅的一面正对脸部;医用口罩上有鼻夹金属条,金属条在口罩的上方;分清楚口罩的正面、反面、上端、下端后,先将手洗干净,确定口罩是否正确之后,将两端的绳子挂在耳朵上;将口罩佩戴完毕后,用双手压紧鼻梁两侧的金属条,使口罩上端紧贴鼻梁,然后向下拉伸口罩,使口罩不留有褶皱,最好覆盖住鼻子和嘴巴。