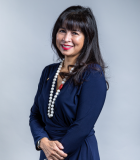 Ms Karen Yung
Chief Collaboration Officer
Karen Yung is a co-founder of Dulwich College International. A graduate of Santa Clara University in California with a BSc. in Economics, Ms Yung got her start in education in Hanoi, Vietnam, where she earned her Montessori Teaching Diploma and opened the Rainbow International Pre-school to offer an option for her children and expats just moving into the burgeoning Hanoi economy.
In 1997, a move to Shanghai saw Ms Yung working first with the American Chamber of Commerce as the US Consulate Liaison and then as the Executive Director for the British Chamber of Commerce. However, a lack of good international schools forced Karen to create an option for her three children. With Fraser White, Ms Yung embarked upon a partnership with Dulwich College London – the beginning of the journey that has today grown into Dulwich College International throughout China, Myanmar, Korea, and Singapore.
Ms Yung was involved in all aspects of opening Dulwich College Shanghai Pudong, from working with contractors and architects to hiring teachers and eventually heading up the admissions and marketing department. Ms Yung personally counselled 450 students and their families in that first cohort. After opening Dulwich College Shanghai and then Suzhou, Ms Yung went on to establish a successful independent university counselling business, helping students in the US, Myanmar, Singapore and Costa Rica before joining the Dulwich College International Education Team in 2017, where she is the Director of Student Journey.
---