Maths Teaching and Learning in the Junior School

"Maths is fun! It makes your brain think a lot. This is good because my brain will get bigger and smarter." Year 3 student.
In the Junior School of DCSZ, Maths learning is designed to support the development of reasoning and problem solving alongside fluency to ensure challenge and ambition for all students. In Year 3, students begin to apply their knowledge and skills to real life situations, often solving problems using skills previously learned. This is then built on each year.
Maths Mastery means students acquire a deep, long-term, secure and adaptable understanding at each stage of their learning, so that by the end of every school year, pupils will have acquired mastery of the mathematical facts and concepts they've been exposed to, equipping them to move on confidently and securely to more advanced material. In order for students to gain mastery, mathematicians in our Junior School are challenged each day to clearly explain their methodology and decisions. Explaining their thinking encourages deep and sustainable understanding, the basic building blocks needed to become a successful mathematician.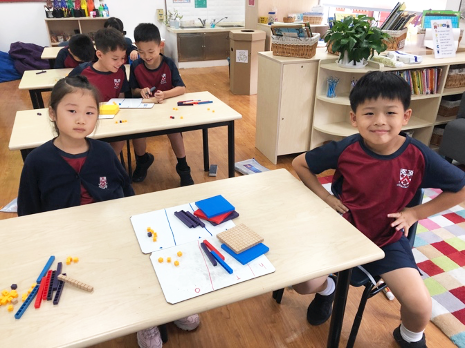 Mathematics is often seen as a difficult subject and regularly students put up barriers if they feel they are not confident working with numbers. At DCSZ, teachers encourage students to develop their 'growth mindset'. Developing a 'have a go' attitude and being a 'risk taker' is an everyday occurrence in maths around the school. Everyone is a mathematician and can achieve mastery in maths.
Maths teaching at DCSZ follows a CPA approach. Concrete, Pictorial, Abstract (CPA) is a highly effective approach that develops a deep and sustainable understanding of maths. Developed by American psychologist Jerome Bruner, it begins by using concrete manipulatives to help embed understanding. Students are asked to represent numbers using a variety of equipment including Base Ten, beads, cubes, counters and everyday objects. This concrete approach teaches students what numbers and amounts look like. Using concrete manipulatives helps students learn the four basic mathematical operations of addition, subtraction, multiplication and division.
Following on from the concrete approach is a pictorial approach where students learn to draw pictures and diagrams to show the numbers they are representing. This is particularly useful when problem solving. Students are encouraged to draw what the question is asking in pictorial form to illustrate their understanding of the words. In our multilingual setting, this basic understanding is more important than ever.
Finally, students progress from pictures to a more abstract approach of learning. They might use a bar to represent an amount, they could use symbols or shapes to solve an equation, or simply use mathematical notation for a sum.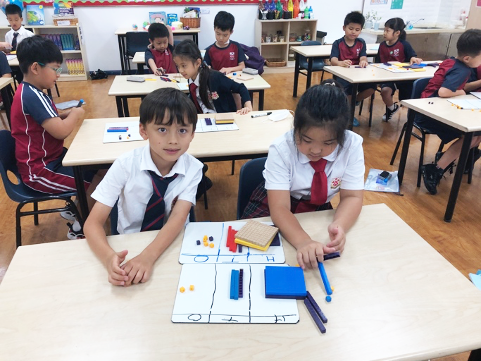 At DCSZ, we recognise that the ability to race through pages and pages of questions, demonstrating speedy and accurate ability to do mechanical calculations does not mean a student has developed secure grasp of the mathematics concerned – many students who appear to shine in this way often struggle when challenged to apply knowledge outside the parameters of routine exercises.
Furthermore, these high-attainers thrive and advance even more in their understanding when exposed to tasks and activities that explore and develop deep understanding. Far from being held back, these students are building more secure and transferable understanding.
At DCSZ, daily maths lessons include students having to explain their thinking. This ensures mathematical concepts are being connected in a logical manner to real-life situations, students are able to apply a skill to multiple contexts and deep understanding is gained; only in this way is maths mastery achieved.
An exciting development in our maths department this year has been the introduction of a 'Maths Society'. This CCA is for students throughout the JS who have a genuine passion for maths and numbers. Each week, the students solve puzzles, play games, explore concepts and work with fellow mathematicians from different year groups to develop their mathematical thinking and reasoning skills. But most important of all, they have fun!
"In Maths Society we solve puzzles and play games. Often we have to work collaboratively to do this. I enjoy working with other people from different years because I get to make new friends." Year 5 student.
"I like how Ms Farrell-Kay lets us decide what we want to learn and which types of problems we'd like to learn how to solve. Sometimes these involve algebra and sometimes they take a long time to work out." Year 6 student.
Tips to help your child gain mastery:
Explain, explain, explain!
Ask them to explain why they are working out a sum in a particular way
Ask them to explain what other ways they could use
Ask them to explain how they could represent that sum using concrete equipment or ask them to draw you a picture
Ask them to explain where they have seen that occur in 'real-life'
Ask them to explain how they know they have found all the possible answers to a puzzle
Ask them to explain how they know their sum is correct
Ask them to explain where they went wrong
Help your child to understand English mathematical vocabulary